As well as our custom wheel offerings, there are plenty of 'off the shelf' alternatives to choose from. Predominantly we focus on alloy rim options here and we have 3 'levels' to choose from. 
Budget.
Replacement wheels where a simple replacement is required. We have a lot of different options here, so always best to call in and ask! However, as a standard option (29″, Boost, 6 bolt, XD body) with a 25mm or 30mm rim width, we have 'Blackjack'. Price 2500kr rear. 1500kr front. 500kr off when you buy a pair! 
Hope Fortus Factory Built
Hope wheels have been something we've worked with from the very start. Fantastic hubs, manufactured in England, laced into their own, extensive range of rims with Sapim spokes and brass nipples. Hope have almost all combinations available, in terms of sizing, axle types, bodies and usage. If you're looking for an upgrade to a 'standard' set of wheels, or a second set to compliment existing wheels – maybe a different set of tyres ready to go, winter wheels, race wheels, bike park… Hope is a no brainer!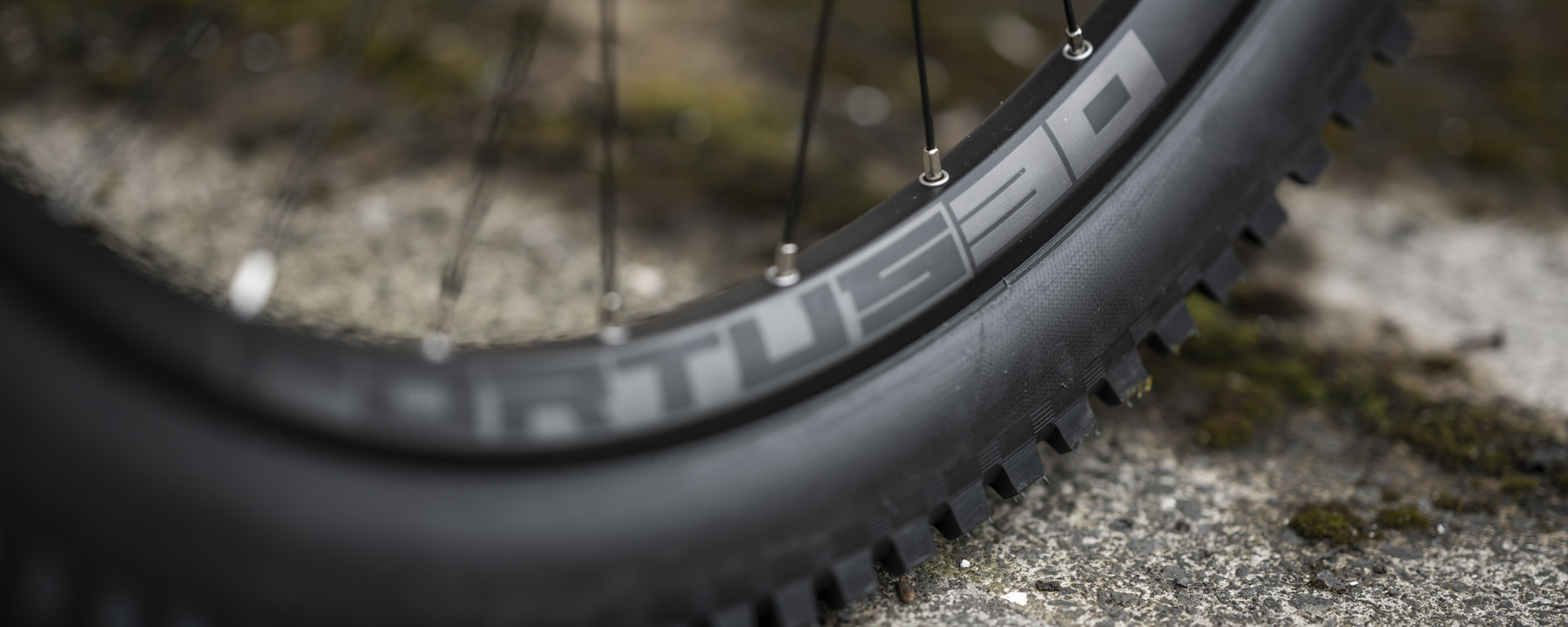 Weights aren't the lightest available, but are ball park for alloy, however the wheels are built to work and keep working. 29″ complete pairs start at 1845g with the 27mm (external) rim width. The bigger/wider rims (suitable for Enduro/DH) are incredibly robust (Vidar, one of our mechanics is testament to that!) 
Rims are available in different widths. (internal) 23mm/26mm/30mm/30mm single cavity/35mm.
The most popular for general riding is the 26mm. A good balance of weight/strength and suitable for all but the most extreme riding. 
Freehub bodies are available in Shimano Hyperglide (alloy or steel) Shimano Microspline and Sram XD.
6 colours on the hubs as well! Black, Silver, Red, Blue, Orange and Purple! 
Pricing across the entire Fortus range is the same, irrespective of rim, colour or body type.
3750kr for a rear and 2250kr for a front.
Buy a pair and get 500kr off! 5500kr total.
Handbyggd Alloy
Of course, we have out handbuilt selection to choose from if you have a specific requirement. Here we take hubs (often Hope or DT Swiss) and pair them with a rim that suits your requirements. We build mostly with No tubes, DT Swiss, Spank and Mavic.. however other options are available and we're happy to talk about what is possible. 
We'd recommend a handbuilt wheel if you are looking for a lighter set of alloy wheels, or perhaps a super strong pair for DH or Enduro use. We often build this way if we have a specific axle requirement or wheels for other uses, such as gravel, BMX or just an unusual combo! 
Price for handbuilding is 800kr per wheel, plus components. We'll always come up with a package price, but expect to pay 6500kr upwards for most combinations. As with all our carbon handbuilt options, you'll also get a free re tension after 1 month to make sure the wheel is in the best possible shape (particularly important on lighter weight builds)