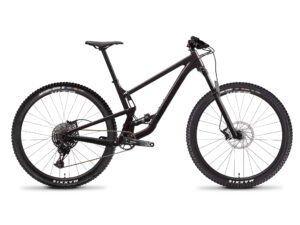 *2023* Now we've begun with a new year, new news is also with us…
Santa Cruz was new to us for 2019! Having been steadliy building a reputation for full suspension bikes, trail orientated and of course our custom builds, we've always seen SC as a perfect fit for our ethos and our customers!
However – given how the last 12-18 months have been with the pandemic and associated issues, we've not seen a SC instore for over 12 months (at time of writing) and given the supply chain to us here in the Nordics, it doesn't look like it will be getting any better.
Currently we are in a 'no mans land' and can neither give positive information regarding new models and delivery dates/pricing, nor say we will even be continuing with SC 🙁
We'll see how things develop and keep you updated.
For now, here's the blurb from us (and them) from previous years…
---
Santa Cruz have been building bikes since 1994 (read more about them here!) and right from the start they weren't ones to follow the trends, but rather go there own way and do it how they wanted to. Currently you're seeing bikes in the range which are class leading in performance, lighter than a lot of those around them and all backed up with a lifetime warranty. 
We're really excited to now be working with SC. We feel they've got bikes in just the right range for our terrain, riding style and need for high quality.
As we're a small store, with lots to do… we'd prefer if you came in to visit us and take a test ride on a bike and discuss what might be the right bike for you. There are hundreds of options and details we can go through, so it's ideal to be instore so we don't just get lost in a digital conversation!  However, we know that's not always possible – so feel free to mail, message us on FB or of course give us a call!
—————————————————————
A bit of info to understand the range better. There are a LOT of options! Once you've got your head around it all, it's quite easy, but the first time you might be a bit lost! Here's some useful info to begin with!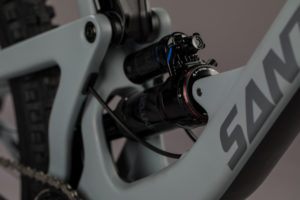 FRAMESETS.  Not all available in all options, but choose from Alloy (AL), Carbon (C) or Carbon (CC) The CC version is the high end frameset. It uses different materials  and is about 0,5kg lighter than the C model. Read more…
All models have the same lifetime warranty, including free of charge pivot bearing replacement.
You can find frame/complete bike weights on the SC website under each individual specification. We've weighed the bikes we've had instore and they're pretty accurate! Alloy –> C= -500g. C –> CC= -500g (circa!)
BUILD KITS. The Factory Build kits direct from SC follow a simple code:'D' – Base model. Sram NX with ifferent depending on model.
'S' – Sram GX, higher spec elsewhere with brakes, dampers and control parts.
'X01' – Sram X01
'XT' – Shimano XT
'XX1' – Sram XX1
'XTR' – Shimano XTR
WHEELS.
'+' – Plus size wheel option
'Reserve' – SC 'Reserve' carbon wheelset option (with lifetime warranty)
---
Why buy from us?…
Good question! Aside from the friendly welcome and expert advice, we pride ourselves on our service, backup and workshop facilities and this is something we try to bring to all our bike sales.
We offer the typical first service (after a month) but before that we start with the building of your bike – we take more time to make sure it's assembled correctly, and not just OK, but as well as it can be. Race ready if you like.
We don't just turn the bars and fit the pedals (which would suffice for some) we go that much further and remove the fork for example. This means we can make sure the headset bearings are greased with a good quality lubricant (something which even the premium brands seem to forget in the factory) We make sure that bolts that need to be torqued to a specific torque are taken care of, seatposts are greased (or carbon pasted!) we take time and set up the brake calipers perfectly and that all the set up and adjustments are 'just so'.
What this means for you, is that when you collect your new machine, you can be sure it's not only ready to ride, but also as good as it can be and that you have had the same mechanics, working to the same standard on your bike as those pro athletes that choose to use our services (read more about them here!)
However, that's not all! With every Santa Cruz we also follow up that initial setup with 2 further services. We'll remind you (via SMS) after 6 months that it might now be a good idea to call back with the bike and let us do it's first 'real' service. Hopefully you've been riding the bike and it's a good time to go through it with our 30 point 'Dr Bike Check'.
We do this 6 month service to set you off in the right direction of servicing your bike at least twice a year! The third service comes after 12 months and this covers all the details of the 6 month with the additional benefit of both the fork and damper service (and this includes the parts!) We feel this takes care of your first year of riding and makes sure you have the best support possible with your new SC!
But we don't stop there!… Also included with your new bike is our goody bag! SiS energyfood, tubeless sealant, tubeless valves, spare gear hanger, custom fender, Peatys link lube and our own coffee blend from Uppsalas own roasters… Uppsala Kafferosteri!!
All in, our service package is worth 3540kr and comes FREE, with all Santa Cruz bikes and custom builds (although we reserve the right to change this package to a simplified version with just a first service, if there are special circumstances with pricing for example – a bike in a sale, an ex demo bike or anything else. Try as we might, we can't do everything for nothing!