Specialized Stumpjumper Evo Comp.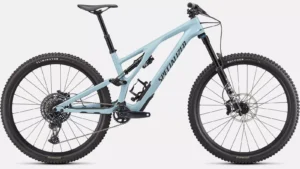 Guess what? we have 2 in store ready to go!!
Size S3 & S4 – 59,000kr
Come and check them out.
MBR Magazine "With all the different ways to adjust the Stumpy EVO, you could argue that Specialized is leaving it up to the customer to do the hard yards. Not so. Because even if you stick with the base settings, you're already in a great spot – this bike literally shreds. Yes, it's more money due to the carbon chassis, but you get a lot of benefits in terms of weight saving, performance, adjustability and SWAT storage. The real reason it's our Trail Bike of the Year in the shop-bought category, though, is because it climbs every bit as well as it descends."
Read the full review HERE!