We've been selling TR since 2014 and still today think they're one step ahead with their thinking and design! Although we think their attitude and approach is a big part of what makes them so special! Have a listen to co-owner Kevin Menard on Vitals Inside Line…
We've not decided on which demo bikes we'll have as yet, but as soon as we have we'll let you know here! Of course, besides the 'off the shelf' builds from TR, you can always go custom with us! Inspiration here…
For now – TR websida here! 
Why buy from us?…
Good question! Aside from the friendly welcome and expert advice, we pride ourselves on our service, backup and workshop facilities and this is something we try to bring to all our bike sales. We offer the typical first service (after a month) but before that we start with the building of your bike – we take more time to make sure it's assembled correctly, and not just OK, but as well as it can be. Race ready if you like. We don't just turn the bars and fit the pedals (which would suffice for some) we go that much further and remove the fork for example. This means we can make sure the headset bearings are greased with a good quality lubricant (something which even the premium brands seem to forget in the factory) We make sure that bolts that need to be torqued to a specific torque are taken care of, seatposts are greased (or carbon pasted!) we take time and set up the brake calipers perfectly and that all the set up and adjustments are 'just so'. What this means for you, is that when you collect your new machine, you can be sure it's not only ready to ride, but also as good as it can be and that you have had the same mechanics, working to the same standard on your bike as those pro athletes that choose to use our services (read more about them here!)
However, that's not all! With every Transition we also follow up that initial setup with 2 further services. We'll remind you (via SMS) after 6 months that it might now be a good idea to call back with the bike and let us do it's first 'real' service. Hopefully you've been riding the bike and it's a good time to go through it with our 30 point 'Dr Bike Check'. We do this 6 month service to set you off in the right direction of servicing your bike at least twice a year! The third service comes after 12 months and this covers all the details of the 6 month with the additional benefit of both the fork and damper service (and this includes the parts!) We feel this takes care of your first year of riding and makes sure you have the best support possible with your new Transition!
But we don't stop there!… Also included with your new bike is our goody bag! SiS energyfood, tubeless sealant, tubeless valves, spare gear hanger, custom fender, Peatys link lube and coffee from Uppsalas own roaster – Uppsala Kafferosteri!
All in, our service package is worth 3540kr and comes FREE, with all Transition bikes and custom builds (although we reserve the right to change this package to a simplified version with just a first service, if there are special circumstances with pricing for example – a bike in a sale, an ex demo bike or anything else. Try as we might, we can't do everything for nothing!
---
29er – Spur 120mm rear / 120mm front (sizes S, M, L, XL)
Transition have recently introduced the new "All Country" Spur. A 120mm front and rear carbon machine that can put in the long miles but also punch above its travel when it comes to the fun descending. We are seeing more bikes like this for people who don't want a full on XC race machine but want something to put in the distance but have fun on the descents.  We see this bike as ideal for our local riding but can also be taken to steeper and gnarlier terrain and not crumble under the pressure.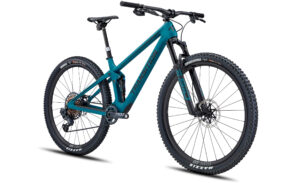 Here is what the press has to say about the new Spur.
nsmb – "Overall, the Spur has been a blast. This really is a well rounded bike with no characteristics that are outliers. The geometry, layup, and components all work together. Its not an overly stiff bike, but its not unsettling, and sometimes feels like traction. Its got cute dampers, but they work well with the weight and layup of the bike. Its not all about weight either, with burlier components where you'd want them." Click here for the full review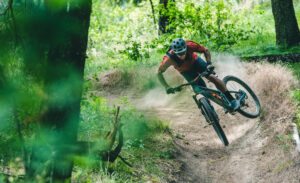 Colours: Deep Sea Green and Black Powder
The Loam Wolf – "The Spur has redefined "trail speed" for us. Due to the lightweight build, aggressive geometry, and stable handling, our braking points on our test track were completely different and we found ourselves brake checking some bigger gaps as we were always carrying more speed. The Spur is able to squeeze out every bit of performance from the ultra light SID suspension and take full advantage of the lightweight components." Click here for the full review
PinkBike – In their recent XC/DC shoot out "Transition's new Spur earned the 'Maybe I don't Need 150mm of Travel' prize for being a wildly competent machine on the descents". Click here for the review on YouTube.
For those of you looking to go a for a little bit of a custom build with the Spur here is Vital MTB's Pro Bike Check with Lars Sternberg from Transition.
Prices. Talk to us about builds and/or custom builds
35,622kr – Spur Carbon Frameset
59,726kr – Spur Carbon with GX build kit
71,254kr – Spur Carbon with X01 build kit
104,790kr – Spur Carbon with XX1 AXS build kit
---
29er – Sentinel 150mm rear / 160mm front (sizes S, M, L, XL, XXL)
The Sentinel 29er has recently had an update. With an all new carbon frame (ala the Scount) and increase in travel from 140mm to 150mm. This bike can take on anything in its path. An ideal do it all bike focusing on Enduro and shredding without it being a super long travel tanker of a bike.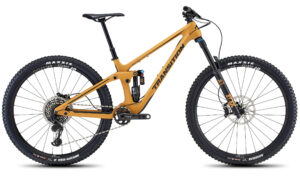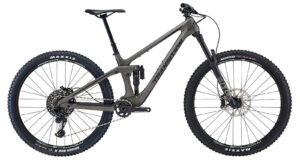 Mike Kazimer from Pink Bike – "The new version is no slouch when it comes to straight-line plowing, but now I'd categorize it as more of an aggressive all-rounder rather than a downhill specialist." Click here for the full review.
MTBR – "Wow, the Sentinel truly packs it all into one rig. I've cleaned more techy climbing sections, felt more confident on blind trails, and had more fun riding the Sentinel than many previous bikes." Click here for the full review.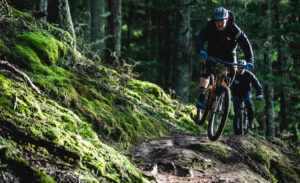 Colours: Loam Gold / TR Grey
Prices. Talk to us about builds and/or custom builds
36,670kr – Sentinel Carbon Frameset
52,914kr – Sentinel Carbon with NX Build Kit
63,918kr – Sentinel Carbon with XT build kit
63,918kr – Sentinel Carbon with GX Build kit
77,018kr – Sentinel Carbon with X01 build kit
---
27.5 – Scout 140mm rear / 150mm front (sizes XS, S, M, L, XL)
The Scout was the first Transition bike to get the all new carbon frame. A very capable 140mm rear and 150mm front travel 27.5 bike that is super playful and fun on the trails. If you like to hit every feature on the trail and boost, manual, scrub etc. This is the bike for you.
Colours: Midnight Blue / Olive Green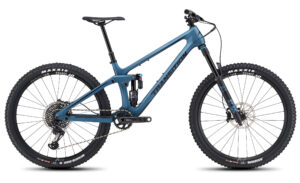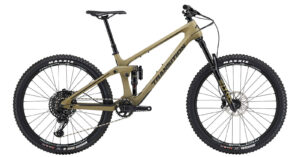 Fanatikbike.com – "Why has the Scout always been my go-to recommendation? As I see it, it is the perfect do-it-all bike for anyone who isn't hell-bent on smashing technical downhill trails as fast as you can. It has enough travel that it certainly can do that, but also not so much that it's soaking up your speed on smoother flow/jump trails, or making long alpine single-track into a death-march… basically, it's a bike that keeps biking fun, which is why the vast majority of us do it." Click here for the full review.
MTBR – "The latest Scout is not only well-designed and manufactured, but its playful and fun nature has the ability to take us back to the nostalgia of popping curbs and building jumps…… Riders looking to get off the ground and find a new sense of inspiration from their local trails will enjoy the ride characteristics of the new Scout." Click here for the full review.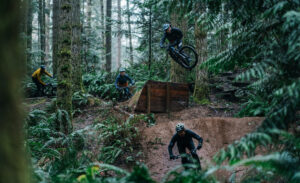 Prices. Talk to us about builds and/or custom builds
36,670kr – Scout Carbon Frameset
52,918kr – Scout Carbon with NX build kit
63,918kr – Scout Carbon with XT build kit
77,018kr – Scout Carbon with X01 build kit
---
26 – PBJ 100mm front (sizes Short, Long, X-Long)
The PBJ has been in the Transition line up for ages and is their dirt jump and pump track bike.
Colours: Raw Steel / Black and Copper / Aqua Blue
Prices. Talk to us about builds and/or custom builds
4,821kr – PBJ Chromoly Alloy Frameset
19,902kr – PBJ Complete Bike
---
24 – Ripcord 100mm rear / 100mm front (one size)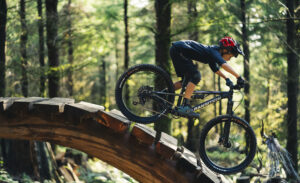 This is Transition bikes do it all kids bike that can easily ride pump tracks, single track and bike parks. Rockshox air front and rear suspension allows the setup to be tuned for your child to get a proper mountain bike experience.
Colours: Loam Gold / Raw Alloy / Grape and Teal
Prices
10,994kr – Ripcord frame only
20,950kr – Ripcord complete bike
If you have any questions then "Giddy Up" and talk to us about the right bike and build for you.