Hej, and welcome to Velotek! You've found the best little bike shop in Uppsala (maybe Sweden, or even the world!)*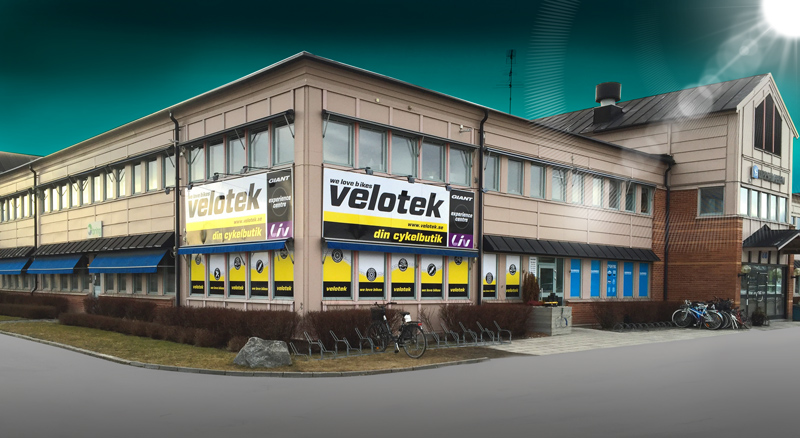 We're dedicated to what we do. Bikes, bits for bikes, things for bikers and most importantly – bikers! What we lack in size, we make up for in enthusiasm, great products and service that is second to none!
No matter what you come to us for, you can be assured we will only offer the very best advice, care and experience that we can. No matter if you drop in for a quick puncture fix, need to talk about the right products for an upcoming event, have questions on the latest wheel size or need a new bike for getting around the city, we treat everyone with the same attention and service. We are a growing business in a competitive market and we know that you demand the very best service when shopping locally.
We sell most types of bikes. We don't have a huge display of every different model from our suppliers ranges (we usually have around 30 bikes on display) but we do have the best of the models to choose from with an expert fitting service and an honest approach when giving advice.
We believe that we have a good understanding of what works and what doesn't. We choose products that we like, use and offer good value for money, whilst of course offering the best possible performance and feel good factor.
We have personal experience in all forms of cycling – kids bikes (as we have our own young family) Standard bikes (from the commute in every day!) Mountain bikes (from over 30 years of riding and racing) Road bikes (from the many, many training miles that have been covered) CX bikes (from working with the UK National Champion) and of course all those other types of bike that fall in between. The one thing in common being the 2 (or 3!) wheels that make them roll.
We have a fantastic, newly renovated workshop facility (see the Verkstad page for more information and pricing) that can deal with anything ranging from a puncture, gear adjustment and accessory fitting, right through to internal hub gear servicing, suspension fork overhaul and disc brake bleeding as well as our dedicated lådcykel workshop.
So, if you want to talk bike and haven't yet found what you are looking for, call in and speak to us! (although if you talk to Neil, please speak slowly!! – he's still learning the lingo and may revert to Swenglish!) ((rev. Neil is now better, so fire away in swedish…! )
*probably
The Staff.
Neil. Owner. One roll at the shop. Everything! He'll talk to you (in Swenglish) about your new bike, answer the phone, work the till, order the stock, answer the emails, socialise on FB, sweep up, fix the occasional bike and pretty much anything else that seems like it needs doing!
Can mostly be found bouncing around from one thing to another. If he gets a chance to ride it'll be #enduro'ing around the local trails. Thinks he's still as fast as he was – and doesn't stop trying to prove it (on Strava!)
Can be persuaded, bribed and corrupted with a nice IPA or something chocolatey.
Robert. Mechanic. 'Bobby' can be found on a daily basis in the workshop. He looks after the majority of bikes that come through here and really knows his way around a bike (fortunately!) He's a trained car mechanic and is a bit of a Macguyver when needed. Happy to fix, as well as fit.
Bobby has worked in the bike trade for many years now, with 3 seasons on Gran Canaria looking after 700 hire bikes and rubbing shoulders with the Cannondale road team. He has a soft spot for old Torpedo hubs, low cars and shooting people (not really…just whilst gaming!)
He too can be persuaded, bribed and corrupted with alcohol or alternatively – cheese.
Mattias (Skägget). If you've been around bikes in sweden, then you probably know Skägget. 'Mr Shimano'  has a long history of bikes and is our latest member of the team. Joining Bobby in the workshop, we've now got what should be the best equipped workshop in sweden. What Matte doesn't know about Shimano isn't worth knowing (and we're teaching him all about the dark Red side and he's being impressed with our love of the Green brand as well!) He builds excellent wheels, understands riders needs from years of servicing for high level teams (national) and individuals. Certified for STEPS and Bosch E Bikes, he loves working on all things 'E'! 😉 Can be bribed with a korv med bröd (ingen sås!) but he'd be happier if you make it a fruit salad or low-cal muesli bar!!!
That's us! We're well worth a visit. Why not combine it with a days riding on the awesome local trails (we'll point you in the right direction!) We can't promise hundreds of like-a-bikes rowed up to see, we don't have a cycling café to sit down in (we've got a Tassimo though!) but we do have a great heart and soul and a passion for what we do.
Välkommen!