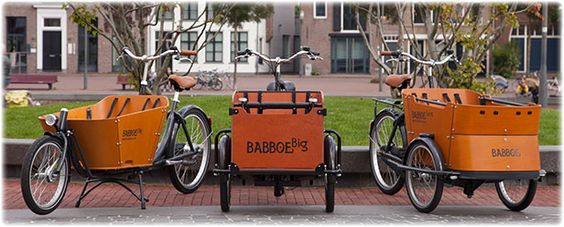 We're excited to announce that we are now an official dealer for Babboe! With the worlds number 1 sold cargobike (the Big E) and a great range of 2 and 3 wheeled bikes, Babboe has something for everyone!
Come in and demo our Mini Mtn or see a Big E for yourself. As well as solid advice about choosing the right cargobike for you, we've also got a dedicated cargobike workshop to deal with all the specific needs of these special machines!
You'll pay the same price buying from us as you would direct from the Babboe website. You can choose to have it built by us and ready to ride (highly recommended – it's a 5/6 hour job for us with experienced mechanics and all the right tools, including an electric winch to work on the bike safely!) or do it yourself for a reduced cost, however if you have it built by us, you'll also receive a 1st month and 6 month service at no extra charge. We'll also be able to process warranty claims and any guarantees that may be needed.
Call in for more info, or give us a call/mail. We'll be happy to help!
2019/20 Prislista.
Big E                   25500kr
Big                       17000kr
Curve E              32500kr
City E                  30000kr
Mini Mtn           42000kr
Transporter E   27000kr
Dog E                  27000kr
Max E                 47000kr