Vinterdäck – nu är det dags!
Now is the time to get yourself ready for winter and change tyres. It's not only the car that needs studs when it's slippery on the roads!
We've got some fantastic deals on winter tyres from Schwalbe, one of, if not the best winter tyre manufacturer out there.
Take a look at our prices and compare them with the big chains or even online, you might be surprised how competitive we are – and don't forget with every pair of tyres bought, you'll get free re fitting of your regular tyres in the spring included! (saving 240kr on a standard bike)  
 28″/Standard bike
If you're looking for 'standard' tyres for your commuting bike, we have 2 options to choose from in 'most' of the common sizes.
Schwalbe Marathon Winter (116-120 studs depending on width) come in sizes –
622/30 / 35 / 42 and 40/635
Schwalbe Marathon Winter Plus (240 studs) come in sizes –
622/35/42
Cargobike
Cargobike owners should also think about the importance of changing tyres as well. The extra weight and stresses of both drive/braking and steering with the weight of a cargobike and it's load, means it's important to use the higher stud count tyres, as well as those with a puncture reinforced construction (which often mean they are E-Bike ready as well) We've reccomend using Schwalbe Marathon Winter Plus and they come in 20″, 24″ and 26″  for most cargobike needs.
MTB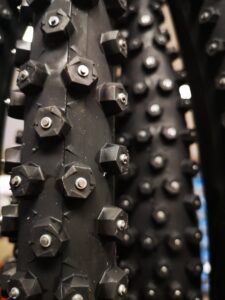 Again we reccomend Schwalbe for MTB use. We've tried others, but as far as performance and feel goes, the Ice Spiker Pro is hard to beat. 2 versions are again available. Evo and non Evo.
27.5″ we carry just the Ice Spiker Pro Evo version in a 2.25″. This is the 'best' one with folding bead, replaceable studs (378) and a relitavely low weight of 835g.
In a 29er size we have both the Evo and non Evo. The 2.25 Evo with 402 studs and a 890g weight, make it a real performance tyre. The non Evo version still has 402 studs, but a higher weight of 1170g.
You can run these tyres tubeless if you wish, we reccomend Stans No Tubes Race sealant as it has a lower temperature rating. Of course, tubes work as well!
Pricing
Schwalbe Marathon Winter
Size                    Ord Pris               Our Price            Save
622/30              500kr                   340kr                  32%
622/35              500kr                   340kr                  32%
622/42              500kr                   340kr                  32%
635/40              500kr                   300kr                 40%
Schwalbe Marathon Winter Plus
Size                    Ord Pris               Our Price            Save
622/35              800kr                   488kr                  39%
622/42              800kr                   544kr                  32%
20″                     700kr                   476kr                   224kr
24″                     700kr                    504kr                  196kr
26″                     800kr                   536kr                   264kr
Schwalbe Ice Spiker Pro/Evo
27.5″ Evo           1300kr                995kr                   305kr
29″ Evo              1425kr                995kr                   430kr
29″ Non Evo     1050kr                769kr                   281kr